Theatre-Led & C4 experiential learning
We help you rehearse for REAL life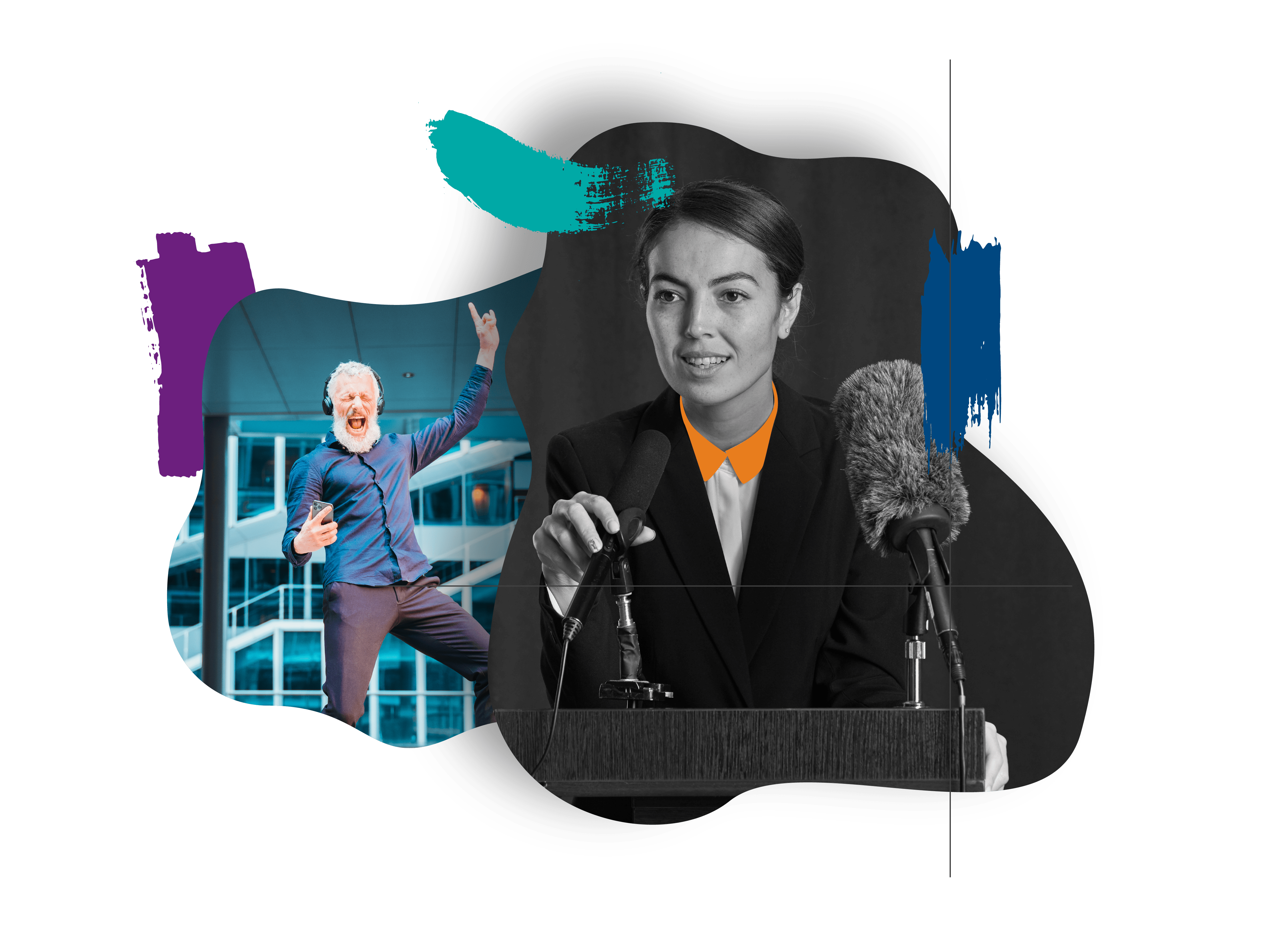 What is Theatre-Led Learning? What is C4?
Theatre-Led Learning (TLL) draws on our creative background as theatre-makers, actors, writers and directors. We bring a theatre director's eye to our workshop designs, and support participants to put theory into practice by applying rehearsal room techniques to workplace learning.

We focus on the 'HOW' of human behaviours at work and translate those into practical, experiential, enjoyable skill-building workshops and development journeys. Our aim is to create confident role models for positive workplace behaviour.

The C4 Dialogue Navigator® is our proprietary model developed to teach the skills of effective interpersonal dialogue. From town halls to daily huddles, from collaboration to conflict, from innovation to negotiation – dialogue is the lifeblood of organisations and a key building block of corporate culture. We've spent decades training leaders and teams to have more effective dialogues, regardless of topic or titles.
Working both face-to-face and through our award-winning online designs, theatre-led learning lets participants experiment, adapt and practice. We work with fishbowls and forum theatre, roleplay and realplay, improvisation, presence & presentations, and play-based methodologies (including Lego® Serious Play®). We engage the whole person, and the whole group, in behavioural experimentation for learning that lasts.

Our pioneering Asia-wide team of Actor-Facilitators specialises in intervention coaching and in-the-moment feedback for TLL and C4 work. That means participants feel the learning, as well as understanding cognitively; they don't just 'get it', they learn to 'do it'. We've applied this approach in one-hour virtual workshops and throughout year-long blended development journeys. We've worked at C-suite level, with regional leadership teams and with next generation high potentials.

Our diagnosis & design process is deeply curious and highly creative. As a full-service partner, we also work behind the velvet curtains, ensuring 'backstage' logistics and technology run smoothly. Automated nudges, individual/group coaching and action-learning projects help the learning stick.
Explore Theatre-Led Learning & C4 Dialogue Navigator
Fishbowls &
Forum Theatre
Roleplay, Realplay & Improvisation
Executive Presence & Presentation
Do your learners 'get it'
but struggle to 'do it'?
Our TLL designers can help...
What our clients say:
Theatre-Led Learning & C4 Dialogue Navigator®
The session was professionally run, the actors did a great job and the use of humour really helped in keeping engagement and energy levels up. In particular the use of real-world, everyday scenarios to make a number of subtle (or not so subtle) behavioural points was very effective. It was a refreshing change to the tired approach of classroom / powerpoint-based training.
I can't say enough about the C4 Dialogue Navigator® toolkits from Dramatic Difference. They have been incredibly effective and importantly, very sticky. Using them, I've observed a significant positive shift in the connection and communication capabilities of our leadership teams and hi-po talent across APAC.
Excellent! I was impressed how you managed to keep a big group engaged. The balance between theory and practical work through roleplay and coaching with the actors was perfect.
Theatre-Led Learning & C4 Dialogue Navigator®
Roleplay: workplace-based scenarios for learning
Realplay: rehearsing genuine characters and situations
Forum theatre: audience discusses and directs the actors in role
Interactive theatre: auditorium-scale and multi-scenario performances with a learning facilitator to structure discussion and learning
Improvisation: on-the-spot, unscripted practice for thinking on your feet
Intervention coaching: skill-building practice plus feedback in-the-moment 
Scriptwriting: our writers create compelling scenarios, speeches and presentations
Casting & Roleplayers: We have diverse, multi-lingual professional roleplay actors in multiple global locations
Actor-Facilitators: Professional actors who can perform in role and also lead learning
Our C4 Dialogue Navigator® model – Connection, Curiosity, Courage and Clarity – is built on real-life experience of conversations that make a positive difference. C4 masterclasses, mindsets, skillsets and toolkits are woven throughout our coaching, facilitation, workshops and development journeys. ​
Regional SLT/MT meetings
Team Offsites & Team-building
Leadership Development & Training
Assessment/Development Centres
Train-the-Trainer sessions
Masterclass series & Learning journeys


Skill Workshops:

90-270 minute online workshops
Half-day face-to face workshops
Full-day/multi-day face-to-face learning labs
Multi-session virtual or blended programmes
Video/high-tech/asynchronous approaches
Authentic leadership
Bystander behaviour
Coaching skills
Collaboration
Conflict resolution
Communication skills
Crisis management
Crucial conversations
Delegation & Accountability
Effective meetings
Executive Presence
Inclusive leadership & teams
Innovation & Creative thinking
Intercultural teamwork
Interview skills
Media training
Meeting management
Mentoring
Negotiation
Performance management
Presenting & Pitching
Psychological safety
Sales & Sales Coaching
Unconscious bias
Workplace Wellbeing
Sign up for insight, ideas and inspiration
We will never share your contact details with third parties.
Contact us to explore our unique experiential approaches